Danke in Challenge Form
Zwischen den ganzen Tischkärtchen und Servietten habe ich heute mal eine kleine Abwechslung gebraucht. Das Sketch von Just Add Ink hat mir einfach super gefallen und dazu habe ich die fröhlich-bunten Farben der Curtain Call Color Challenge genommen.
I needed a change from folding napkins and crafting place cards. Just Add Ink's Sketch is a great one and so I added those bright colors of the Curtain Call Color Challenge.
SU-Farbkarton: Vanille Pur, Farngrün, Mandarin-Orange – SU-Designpapier: Türkis (Pastellfarben) – SU-Stempelset: Engraved Greetings – SU-Stempelfarbe: Farngrün
Ich bin Christine aus Esslingen und bin 36 Jahre jung.
Neben der Teilzeit-Bastelfee bin ich Vollzeit-Mama und arbeite im "richtigen Leben" in der Buchhaltung. Hier nun das Ergebnis meines kreatives Ausgleichs…
Viel Spass beim Stöbern und Ideen finden :D
Sale! Flohmarkt!
In{k}spire_me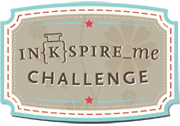 Was war Wann