Mojo Monday 184
Tolle Challenge diese Woche bei Mojo Monday.  Ich habe mich für die quadratische Variante entschieden.
There's a great challenge at Mojo Monday this week. I decided to do a square card.
Endlich konnte ich auch die hübschen Glimmer Brads aus dem amerikanischen Mini verwenden :-)
I was glad to have an opportunity to use those nice glimmer brads :-)
SU-Farbkarton: Türkis, Vanille Pur – SU-Designpapier: Signalfarben – SU-Stempelfarbe: Himbeerrot – SU-Stempelset: Ornate Blossom
Ich bin Christine aus Esslingen und bin 36 Jahre jung.
Neben der Teilzeit-Bastelfee bin ich Vollzeit-Mama und arbeite im "richtigen Leben" in der Buchhaltung. Hier nun das Ergebnis meines kreatives Ausgleichs…
Viel Spass beim Stöbern und Ideen finden :D
Sale! Flohmarkt!
In{k}spire_me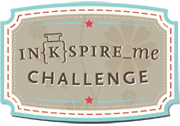 Was war Wann