Mojo Monday 186
This week's sketch of Mojo Monday ist a great one. Immediately, there was an idea on my mind. And it was there for quite some days. Last night, I needed to do it:
I love the color combo of Poppy Parade and Concord Crush. I used Very Vanilla as neutral color in-between.
SU-Farbkarton: Veilchen, Blutorange, Vanille Pur – SU-Designpapier: In Colors – SU-Stempelfarbe: Blutorange, Veilchen – SU-Stempelset: Glaube einfach, Printed Petals, Paisley Party – Accessoires: Glimmer Brad, Band in Vanille Pur, Twine, Stampin' Around Wheel
Ich bin Christine aus Esslingen und bin 36 Jahre jung.
Neben der Teilzeit-Bastelfee bin ich Vollzeit-Mama und arbeite im "richtigen Leben" in der Buchhaltung. Hier nun das Ergebnis meines kreatives Ausgleichs…
Viel Spass beim Stöbern und Ideen finden :D
Sale! Flohmarkt!
In{k}spire_me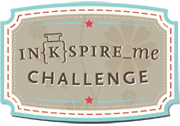 Was war Wann