Schwarz mit Weiß
Ich steh ja total auf schwarz/weiß! Da kam die Challenge von Just Add Ink gerade richtig.
I really do like black'n'white! Therefore, the challenge of Just Add Ink was just right.
Produkte von Stampin' Up! : Farbkarton Schwarz, Flüsterweiß – Stempelfarbe Schwarz – Stempelsets Glück (SAB, vergriffen), Denk an Dich (SAB, vergriffen), Spaß nach Maß (GG Prämie Level 2), Razzle Dazzle, Itty Bitty Bits – Accessoires Perlenschmuck
Ich bin Christine aus Esslingen und bin 36 Jahre jung.
Neben der Teilzeit-Bastelfee bin ich Vollzeit-Mama und arbeite im "richtigen Leben" in der Buchhaltung. Hier nun das Ergebnis meines kreatives Ausgleichs…
Viel Spass beim Stöbern und Ideen finden :D
Sale! Flohmarkt!
In{k}spire_me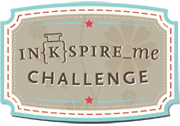 Was war Wann