In{k}spire_me Sketch Challenge #199
Diese Woche hat uns Jenny einen richtig guten Sketch für In{k}spire_me überlassen – ich habe gleich zwei Karten damit gemacht :)
This week, Jenny left us a really great sketch for In{k}spire_me – I even created two cards :)
Heute bekommt ihr die Hochzeitskarte zu sehen, die mit dem Sketch entstanden ist.
Today, I'd like to show you my wedding card which was done due to the sketch.
Die Farben sind auch tatsächlich original die Hochzeitsfarben, die Einladung wurde nämlich mit SU Produkten gestaltet und somit habe ich selbstverständlich diese Farben aufgegriffen.
The colors are the original wedding colors as the invite was created with SU products. So it goes without saying that I picked up these colors.
Am Wochenende seht ihr dann die andere Karte, die zu diesem Sketch entstanden ist und ich freue mich auf Eure Umsetzungen ;)
I will show you the second card created with this sketch on the weekend and am looking forward to seeing your creations ;)
Stampin' Up! Produkte: Farbkarton Petrol, Aquamarin, Flüsterweiß, Glitzersilber – Designerpapier Zauberhaft (SAB, vergriffen) – Stempelset Famose Fähnchen – Stempelfarbe Petrol – BigShot Framelits Herz-Kollektion, Famose Fähnchen – Stanze Häkelbordüre (vergriffen)
Schlagwörter: SU Famose Fähnchen/Itty Bitty Banners
Ich bin Christine aus Esslingen und bin 36 Jahre jung.
Neben der Teilzeit-Bastelfee bin ich Vollzeit-Mama und arbeite im "richtigen Leben" in der Buchhaltung. Hier nun das Ergebnis meines kreatives Ausgleichs…
Viel Spass beim Stöbern und Ideen finden :D
Sale! Flohmarkt!
In{k}spire_me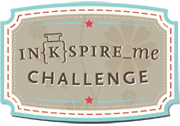 Was war Wann