In{k}spire_me Sketch Challenge #204
Willkommen zur 204. Challenge von In{k}spire_me! Diese Woche hat Tina einen richtig coolen Sketch für Euch :D
Welcome to the 204th challenge of In{k}spire_me! This week, Tina created a really cool sketch for you :D
Und als meine Mama für einen 100. Geburtstag für eine sehr gläubige Dame eine Geburtstagkarte gefordert hat, war alles sofort klar.
And when my mom aked for a birthday card for a 100th birthday of a very religious lady, everything was so very clear.
Ich war mir nur mit den Farben unsicher und habe mich dann einfach auf die neuen InColors eingelassen. ;)
I was a bit insecure with the colors but then, I got engaged with the new InColors ;)
Wie möchtet ihr den Sketch umsetzen? Ich bin gespannt…
How would you like to use this sketch? I am excited…
Stampin' Up! Produkte: Farbkarton Ockerbraun, Minzmakrone, Flüsterweiß – Stempelset Praying Hands (vergriffen) – Stempelfarbe Ockerbraun – BigShot Framelits Ovale Kollektion, Sizzlits Junior Alphabet (vergriffen) – Spitzenband in Minzmakrone
Schlagwörter: SU Praying Hands
Ich bin Christine aus Esslingen und bin 36 Jahre jung.
Neben der Teilzeit-Bastelfee bin ich Vollzeit-Mama und arbeite im "richtigen Leben" in der Buchhaltung. Hier nun das Ergebnis meines kreatives Ausgleichs…
Viel Spass beim Stöbern und Ideen finden :D
Sale! Flohmarkt!
In{k}spire_me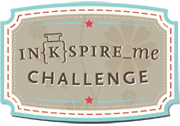 Was war Wann