In{k}spire_me Challenge #282
Herzlich Willkommen zu unserer ersten In{k}spire_me Challenge 2017! Ela startet mit einer winterlichen Farbkombination :)
A hearty welcome to our first In{k}spire_me Challenge 2017! Ela is starting with a winter-y color combination :)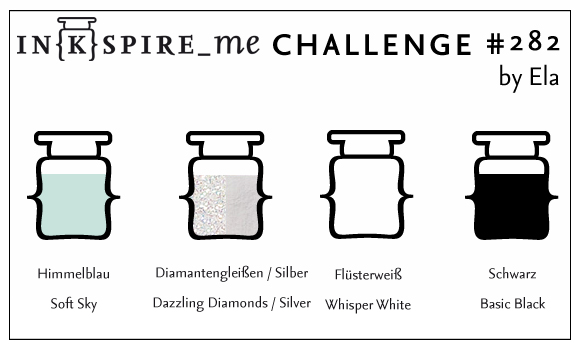 Ich kam gestern vom Kurzurlaub am Bodensee zurück. Mein Sohn und ich hatten wirklich ein paar wunderschöne Tage dort, auch wenn es wirklich seeeeeehr kalt war. So und dann war ich daheim, total erfüllt und etwas gestresst von der schneeregenerfüllten Heimfahrt – und dann ist mir eingefallen, dass ich noch eine Karte für die heutige Challenge benötige. Puh… Auf dem Basteltisch lag noch Annemarie's Weihnachtstüte – die musste dann als grobe Vorlage herhalten ;) Lange Rede, kurzer Sinn: hier ist meine Karte!
I came home from a short trip to Lake Constance yesterday. My son and me had some really wonderful days there although it was veeeeery cold. Well I came home, very happy and a bit stressed from the rain and snow during the trip home – and then I remembered that I still need a card for today's challenge. Urgh… On my crafting table was still the Christmas bag of Annemarie which was my pattern ;) To cut a long story short: here we go!
Ich hatte noch schwarzes Glitzerpapier gefunden und das wurde mit eingebunden. Die Karte bekommt meine Mama morgen zum Geburtstag. <3 Mit dem Glitzerpapier und dem Silber wirkt es doch recht edel. Der Spruch auf der silbernen Metallic-Folie ist mit schwarzer StäzOn-Tinte gestempelt – trocknet sofort und hält.
I found some black glimmer paper and used it right away. The card is for my mother's birthday tomorrow. <3 It's really classy with the glimmer paper and the silver. The sentiment on the silver foil sheet is stamped with black StäzOn ink – dries in a second and lasts.
Ich freue mich auf Eure Werke zur Farbkombi :)
I am looking forward to seeing your projects with this color combination :)
Stampin' Up! Produkte: Farbkarton Flüsterweiß, Himmelblau, Schwarz, Glitzerpapier Schwarz (vergriffen), Metallic-Folie Silber – Designerpapier Kollektion Neutralfarben – Stempelfarbe Himmelblau, StäzOn Schwarz – Stempelset Geburtstagshurra – BigShot Framelits Kreis-Kollektion (vergriffen) – Stanze Bannerduo, 3fach Fähnchen
Schlagwörter: SU Geburtstagshurra/Birthday Bright
Ich bin Christine aus Esslingen und bin 36 Jahre jung.
Neben der Teilzeit-Bastelfee bin ich Vollzeit-Mama und arbeite im "richtigen Leben" in der Buchhaltung. Hier nun das Ergebnis meines kreatives Ausgleichs…
Viel Spass beim Stöbern und Ideen finden :D
Sale! Flohmarkt!
In{k}spire_me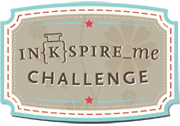 Was war Wann