In{k}spire_me Color Challenge #302
Willkommen zu einer neuen Woche bei In{k}spire_me! Diese Woche hat Kirstin eine interessante :D Farbkombination für Euch…
Welcome to a new week at In{k}spire_me! This week, Kirstin made up an interesting :D color combination for you…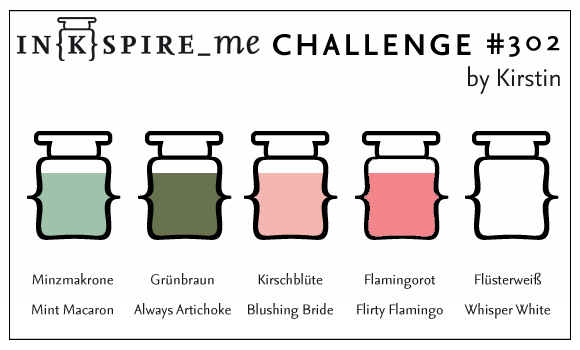 Ich tat mir lange Zeit recht schwer, muss ich ehrlich gestehen. Letztlich habe ich mich dann an Grünbraun rangewagt und Mini-Kärtchen gefertigt.
Honestly, I must say that I had some issues with these colors. In the end, I dared Always Artichoke and created some mini cards.
Diese Mini-Kärtchen gingen an die Gewinnerinnen unserer Ostereiersuche :) Irgendwie fand ich die Farben dazu wirklich passend und das Set Timeless Textures hilft mir bei schwierigen Farben meistens…
These mini cards were made for the winners of our Easter egg search :) Somehow I thought the colors quite fitting and the set Timeless Textures helps me with difficult colors…
Ich bin gespannt, was ihr mit diesen Farben anstellt!
I am excited to see what you will come up with!
Stampin' Up! Produkte: Farbkarton Grünbraun, Minzmakrone, Flüsterweiß – Stempelset Timeless Textures, Wunderbare Worte – Stempelfarbe Flamingorot, Kirschblüte, Minzmakrone – Lack-Akzente
Schlagwörter:SU Timeless Textures, SU Wunderbare Worte/Suite Sayings
Ich bin Christine aus Esslingen und bin 36 Jahre jung.
Neben der Teilzeit-Bastelfee bin ich Vollzeit-Mama und arbeite im "richtigen Leben" in der Buchhaltung. Hier nun das Ergebnis meines kreatives Ausgleichs…
Viel Spass beim Stöbern und Ideen finden :D
Sale! Flohmarkt!
In{k}spire_me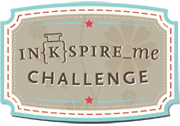 Was war Wann