In{k}spire_me Color Challenge #304
Herzlich Willkommen zu einer neuen Woche bei In{k}spire_me mit einer tollen Farbkombination von Tina :)
A hearty welcome to our new week at In{k}spire_me with a great color combination by Tina :)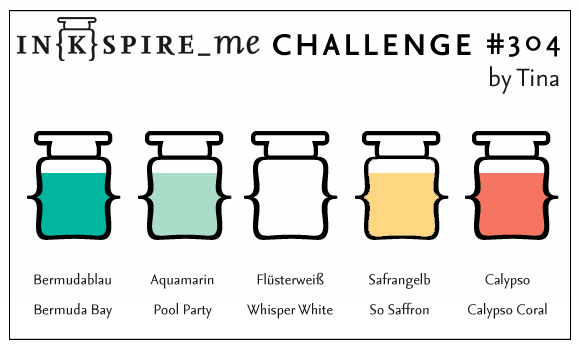 Da vor kurzem eine alte Freundin – wir kennen uns seit Kindertagen – ihr erstes Kind geboren hat, war eine Babykarte fällig. Und ich fand diese Farbkombination perfekt…
As an old friend – we know each other since we were kids – gave birth to her first child, a baby card was needed. And to me, the color combination fits perfectly…
Dieses Set werde ich wirklich sehr vermissen. Aber ich musste es einfach verwenden und der Body mit der Krawatte ist einfach herzig ;) Das L steht für den Vornamen des Jungen.
I'd really miss this set. But I needed to use it as the onesie with the tie is so cute ;) The L is standing for the boy's name.
Was fällt Euch zu diesen Farben ein?
And what comes to your mind with these colors?
Stampin' Up! Produkte: Farbkarton Bermudablau, Flüsterweiß – Designerpapier Block Pastellfarben – Stempelset Something for Baby (vergriffen), Brushwork Alphabet, Unentbärliche Grüße – Stempelfarbe Bermudablau, Aquamarin, Safrangelb, Calypso – BigShot Framelits Baby's First – Lack-Akzente