In{k}spire_me Birthday Challenge #310
Willkommen bei unserer Geburtstagchallenge bei In{k}spire_me – wirklich genial, dass es sich wieder ein Jahr jährt :D
Welcome to our birthday challenge at In{k}spire_me – really great, another year went by :D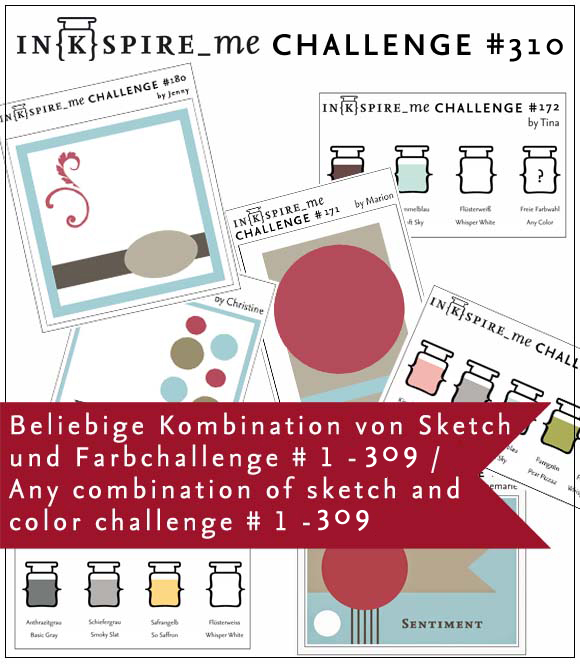 Hier seht ihr meine Challenge-Auswahl: Nr 045 – Nr 046 – Nr 296
Here is my choice for the challenge: Nr 045 – Nr 046 – Nr 296
Ich habe mir für insgesamt drei Challenges als Kombination entschieden – ein Sketch und 2 Farbkombinationen. Ich brauchte Geburtskarten für ein Mädchen und einen Jungen. Hat sich also einfach angeboten ;)
I decided to to three challenges in combination – one sketch and two color combinations. I needed cards for the birth of a girl and a boy. So this just made sense ;)
Den Sketch mochte ich und mir ist sofort das Baby mit dem Regenschirm dazu eingefallen. Also habe ich dies mit den ausgewählten Farben umgesetzt…
I really liked the sketch and had immediately the baby with the umbrella on my mind. So I realized it with the chosen colors.
Meine Zusatzfarben bei der Jungskarte ist eindeutig Schwarz. Den Rest habe ich mit dem Aquapainter coloriert.
My additional color for the boy's card is black. The rest was colored with the Aquapainter.
Ich freue mich sehr auf Eure Wahl und Projekte :D
I am excited to see your choice and projects :D
Stampin' Up! Produkte: Farbkarton Flüsterweiß, Aquamarin, Petrol, Pflaumenblau, Zarte Pflaume – Stempelset Moon Baby – Stempelfarbe Aquamarin, Petrol, Savanne, Zarte Pflaume, Pflaumenblau, Wink of Stella, Wildleder – BigShot Ovale Kollektion (vergriffen), Framelits Stickmuster – Aquapainter