In{k}spire_me Color Challenge #313
Willkommen zu einer neuen Farbkombination bei In{k}spire_me, die diese Woche von Annemarie stammt und schon sehr herbstlich ist ;)
Welcome to a new color combination at In{k}spire_me which was made up by Annemarie this week and is starting of fall a bit ;)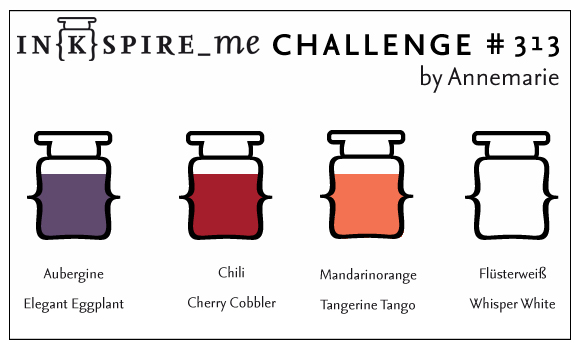 Ich habe mit den Farben eine Wasserfallkarte für die Lehrerin meines Sohnes gemacht. Da er nach den Sommerferien eine neue Klassenlehrerin bekommt, war eine Dankeskarte einfach angebracht.
I created a waterfall card for my son's teacher with these colors. He will have new class teacher after the summer holidays and so a thank you card was appropriate.
Um einen besonderen Effekt zu erzielen habe ich mal wieder den Wink of Stella Stift verwendet. Der dezente Glitzer ist einfach schön :)
To create a special effect I used the Wink of Stella pen again. I really like the restrained glitter :)
Und was fällt euch mit diesen Farben ein?
And what comes to your mind with these colors?
Stampin' Up! Produkte: Farbkarton Aubergine, Flüsterweiß, Chili – Stempelset Falling Flowers, Wunderbare Worte (vergriffen), Flamingo-Fantasie – Stempelfarbe Chili, Mandarinorange – Stanze Gewellter Anhänger – Wink of Stella – Strassschmuck – Band in Flüsterweiß
Schlagwörter:SU Falling Flowers, SU Flamingo-Fantasie/Fabulous Flamingo, SU Wunderbare Worte/Suite Sayings
Hello everybody :)
Ich bin Christine aus Esslingen und bin 38 Jahre jung.
Neben der Teilzeit-Bastelfee bin ich Vollzeit-Mama und arbeite im "richtigen Leben" Office Manager in einer Software-Firma. Hier nun das Ergebnis meines kreatives Ausgleichs…
Viel Spass beim Stöbern und Ideen finden :D
In{k}spire_me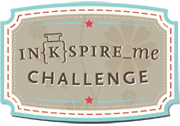 Was war Wann