In{k}spire_me Color Challenge #315
Willkommen zu einer neuen Woche bei In{k}spire_me! Ela hat sich eine lilafarbene Kombination ausgesucht, die wirklich Spaß macht :)
Welcome to a new week at In{k}spire_me! Ela made up a purble combination which is real fun :)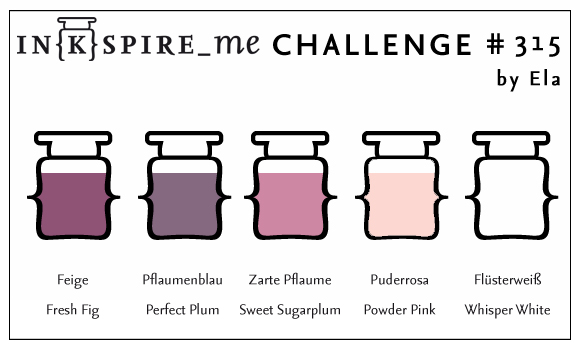 Ich habe eine bei Pinterest eine Verpackung gesehen, die ich unbedingt ausprobieren wollte. Dazu gab es dann noch passend ein Minikärtchen.
I found a box at Pinterest which I really wanted to try. In addition, there is a matching mini card.
Die Box mit dem Schiebedeckel ist wirklich cool. Es fiel mir etwas schwer, alle Farben einzusetzen, aber das hat dann gut geklappt.
This box with the moving lit is really cool. I had some issue to use all colors but in the end it worked out quite well.
Die Anleitung zur Box ist auch recht einfach: Klick
The tutorial for this box is quite easy (but German): click
Ich freue mich auf Eure Projekte mit diesen Farben.
I am looking forward to seeing you projects with these colors.
Stampin' Up! Produkte: Farbkarton Flüsterweiß, Puderrosa, Feige, Zarte Pflaume – Stempelset Gänseblümchengruß, Text Ya Later – Stempelfarbe Pflaumenblau, Feige, Zarte Pflaume, Puderrosa – Stanze Gänseblümchen, kleines Etikett (vergriffen) – Akzente Brilliantweiß