In{k}spire_me Sketch Challenge #316
Willkommen zu einer neuen Woche bei In{k}spire_me! Der Sketch diese Woche kommt von Heike und er lässt schön viel Freiheiten… :)
Welcome to a new week at In{k}spire_me! The sketch this week was made up by Heike and you may take artistic liberties… :)
Meine Mutter hat mich mal wieder um eine Auftragskarte gebeten. Zum 70er eines guten Bekannten. Sie hatte mir die Einladung zum Geburtstag gezeigt und irgendwie war mir dann nach schlicht und mit Prachtfarben. Et voilà, das ist dann draus geworden:
My mother asked me for a card for a 70th birthday of a dear friend. She showed me the invitation to the birthday and somehow I felt like simple and colors of the regals collection. Et voilà, that's what I came up with:
Schlicht und männlich und die Farben machen sich irgendwie echt gut zusammen, finde ich. Ich mag die Karte und meiner Mutter hat sich auch gefallen :)
Clean and masculine and the colors match perfectly together, I think. I really like this card and even my mom liked it :)
Wie interpretiert ihr den Schnörkel im Sketch?
How will you interpret the flourish of the sketch?
Stampin' Up! Produkte: Farbkarton Curry-Gelb, Petrol, Flüsterweiß – Stempelset Timeless Textures, Gorgeous Grunge, Wunderbare Worte – Stempelfarbe Curry-Gelb, Petrol – BigShot Sizzix Junior Alphabet (vergriffen)
Schlagwörter:SU Gorgeous Grunge, SU Timeless Textures, SU Wunderbare Worte/Suite Sayings
Ich bin Christine aus Esslingen und bin 38 Jahre jung.
Neben der Teilzeit-Bastelfee bin ich Vollzeit-Mama und arbeite im "richtigen Leben" Office Manager in einer Software-Firma. Hier nun das Ergebnis meines kreatives Ausgleichs…
Viel Spass beim Stöbern und Ideen finden :D
In{k}spire_me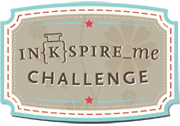 Was war Wann