In{k}spire_me Color Challenge #326
Willkommen zu einer neuen Woche bei In{k}spire_me! Die weihnachtliche Farbkombination stammt von Marion :)
Welcome to a new week at In{k}spire_me! The Christmas-y color combination was made up by Marion :)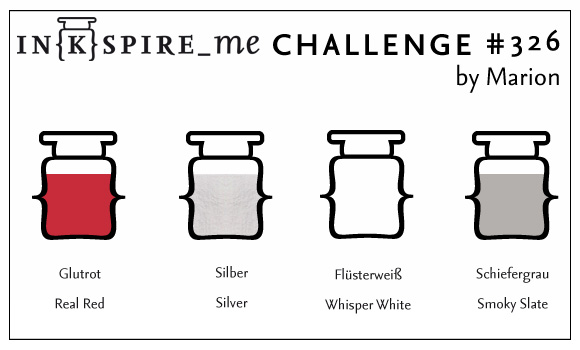 Bei diesen Farben komme selbst ich nicht um eine Weihnachtskarte rum und habe mich mit Rot nicht zurück gehalten.
Even I needed to craft a Christmas card with these color and used red excessively.
Die geprägte Schneeflocke find ich einfach super, da ist die halbe Karte schon ausgefüllt ;)
The embossed snow flake ist great as half of the card is already filled ;)
Und welche Projekte fallen euch zu diesen Farben ein?
And which projects come to your mind using these colors?
Stampin' Up! Produkte: Farbkarton Glutrot, Flüsterweiß, Metallic-Folie Silber – Stempelset Tage wie Weihnachten – Stempelfarbe Glutrot, Schiefergrau – BigShot Prägeform Schneekristall – Strassschmuck