IN{K}SPIRE_me Color Challenge #333
Willkommen zu einer neuen Woche bei IN{K}SPIRE_me! Diese Woche gibt es eine Farbkombination von Annemarie :D
Welcome to a new week at IN{K}SPIRE_me! This week, Annemarie made up a color combination for you :D
Da die Farben sehr neutral und eher trist sind, wollte ich eine fröhliche Karte damit gestalten und habe ich für die Zusatzfarbe Limette entschieden.
As the colors are quite neutral and dismal I wanted to create a bright card with them and decided on Lemon Lime Twist as additional color.
Außerdem habe ich endlich mal das Set "Kaffee olé" verwendet (und mir dazu Inspiration von Pinterest geholt).
Plus, I finally used the set "Coffee Café" (with a little help from Pinterest).
Ich freue mich auf Eure Werke!
I am excited to see your projects!
Stampin' Up! Produkte: Farbkarton Limette, Flüsterweiß, Schiefergrau, Pergament – Stempelset Timeless Textures, Kaffee Olé, Bannerweise Grüße – Stempelfarbe Archivtinte Schwarz, Limette, Schiefergrau – BigShot Framelits Kaffeebecher – Stanze Bannerduo – Band in Limette, Kordel in Schwarz – Strassschmuck
Schlagwörter:SU Bannerweise Grüße/Thoughtful Banners, SU Kaffee Olé/Coffee Café, SU Timeless Textures
Hello everybody :)
Ich bin Christine aus Esslingen und bin 38 Jahre jung.
Neben der Teilzeit-Bastelfee bin ich Vollzeit-Mama und arbeite im "richtigen Leben" Office Manager in einer Software-Firma. Hier nun das Ergebnis meines kreatives Ausgleichs…
Viel Spass beim Stöbern und Ideen finden :D
In{k}spire_me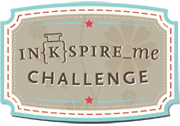 Was war Wann