IN{K}SPIRE_me Color Challenge #345
Herzlich Willkommen zu einer neuen Woche bei IN{K}SPIRE_me! Diese Woche kommt die Farbkombination von Marion :)
A hearty welcome to a new week at IN{K}SPIRE_me! This week, the color combination was made up by Marion :)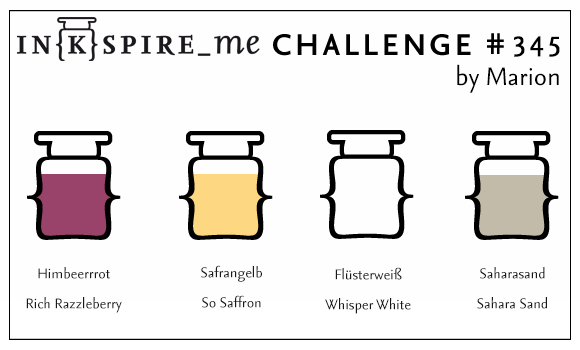 Hier habe ich für meine Karte den Leckereienumschlag mal wieder verwendet – und das Gänseblümchen.
Here, I used the Thinlits for the Mini Treat Bag – and the Daisy.
Innen habe ich ein Stück festen weißen Farbkarton bestempelt. Das Band ist hingetackert.
Inside there is a piece of thick Whisper White paper. The ribbon is stapled.
Ich freue mich sehr auf Eure Umsetzungen :D
I am looking forward to seeing your projects :D