IN{K}SPIRE_me Color Challenge #372
Herzlich Willkommen zu einer neuen Farbkombination bei IN{K}SPIRE_me, die heute von Heike stammt. :)
A hearty welcome to a new color combination at IN{K}SPIRE_me which today was made up by Heike. :)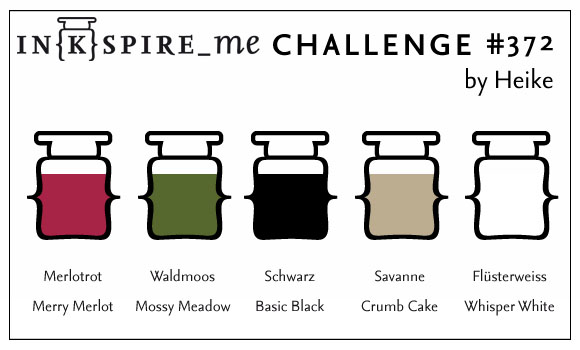 Mit diesen tollen Farben konnte ich nun endlich auch das Set "Landhaus-Idylle" richtig einsetzen. :D
With these nice colors I was finally ready to use the set "Cozy Cottage" :D
Ich habe dafür mit dem Aqua Painter auf Seidenglanz gemalt und dabei die vorgegebenen Farben verwendet. Auch die Berge sind mit Schwarz entstanden, aber schon auf Schmierpapier abgepinselt.
I painted with the Aqua Painter on Shimmery White using the given colors. The hills are colored in black as well but brushed off on scratch paper.
Ich bin gespannt, was ihr mit diesen Farben bastelt.
I am excited to see what you will come up with these colors.